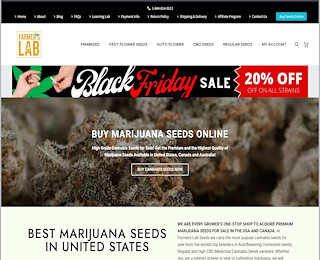 You can buy autoflower cannabis seeds at a reasonable price by shopping at Farmer's Lab. Autoflowering marijuana seeds are popular because of their fast flowering and harvest times. Feminized autoflowering cannabis seeds produce only female marijuana plants that are potent and intense. Growers are willing to pay more for strong plants that produce fast results without damaging the quality of the yield.
Top Eight Most Popular Autoflowering Cannabis Strains
When you buy autoflower cannabis seeds, you are ultimately choosing an easier growing operation. Opting to buy autoflowering seeds from the top cannabis strains can generate a positive experience for every grower.
Instructions to Place Your Order
Customers can place their orders to buy autoflower cannabis seeds from Farmer's Lab by visiting the website. Customers can also call 1-844-814-3013 to place orders from Farmer's Lab.