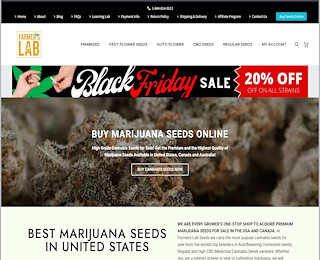 Cannabis growers are leaning more toward autoflowering marijuana seeds and feminized seeds than they have in the past. Feminized autoflowering seeds are raging in popularity because they deliver only female cannabis plants, which are notoriously the best and most potent plants.  Autoflowering cannabis seeds will sprout plants that will automatically flower on their own once they reach a certain age and phase of growth.
Photoperiod seeds are the polar opposite of seeds that automatically flower at a specific maturity. With photoperiod seeds, growers must provide the plant with three or more weeks of dark nights before the flowering phase begins. Growers with little experience prefer to avoid photoperiod seeds because they require detailed care instructions.
Three Enjoyable Benefits of Opting to Buy Autoflower Seeds USA
Growers can enjoy certain incentives when they choose to buy autoflower seeds USA. Cannabis growers looking for an easy to cultivate and well-rounded experience will find these types of seeds to be the best option. Explore the top three benefits you can enjoy as a grower when you buy autoflower cannabis seeds.
Multiple Autoflowering Cannabis Strains – It is possible to buy autoflowering seeds from a wide range of cannabis strains, such as Sour Diesel. Other popular autoflower cannabis seeds to buy include Blue Dream, Purple Kush, and AK-47. The wide selection of strains adds to the appeal of these unique seeds because growers can cultivate multiple plants. Dwarf Lowrider is another strain that shouldn't be overlooked.
Quick Harvest Time – Autoflowering seeds typically have a quick harvest time and an agile lifecycle. In the total amount of time it takes a photoperiod cannabis seed to begin the flowering process, an autoflower seed will produce a full harvest. The yield of such seeds might not be as large as photoperiod seeds, but the quick flowering times make up for the low yield. Growers can utilize specialized techniques to create heavier yields, such as the Sea of Green strategy. The Screen of Green technique is also an effective option for producing a higher yield on these flowering seeds.
Discreet Plants – Cannabis plants that come from these types of seeds don't get very tall. The short stature of these plants makes them perfect for growing in discreet places. These seeds are the best option for micro-growers because the plants do not get any taller than sixty centimeters. Short cannabis plants are great for small grow operations that easily dismantle and break down with minimal costs. Small scale growing systems can achieve optimal organization by operating with short cannabis plants.
Best Place to Order Autoflower Seeds USA Online
Farmer's Lab is the best place to buy all strains and types of cannabis seeds. Only feminized autoflower strains of superior quality are sold by Farmer's Lab, like Amnesia. Our company offers different seed packet sizes, such as six seeds, twelve seeds, and eighteen seeds, no matter what strain you purchase.
 Some of the most highly recommended strains we offer include NYC Diesel and Jack Herer. Customers can place their cannabis seed orders from Farmer's Lab online or by calling 1-844-814-3013.