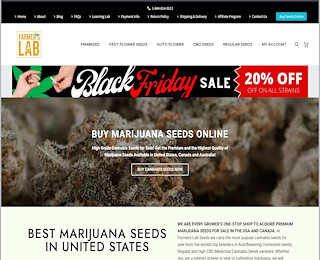 Buy marijuana seeds in the USA to benefit from a consistent supply of relief. Farmers Lab Seeds checks every seed before discreetly shipping to the comfort of your home to ensure that you receive the most for your money.
How do I grow my own marijuana?
Growing marijuana is not simple. Plants typically flower within nine to ten weeks with some taking slightly longer and some slightly less time.
Sunlight, nutrients, and pruning all dictate the quantity and quality of your marijuana. Understanding what to do in both the growth and flowering cycles is critical.
How much sunlight do plants require?
Strains differ in the amount of sunlight required to grow. OG Kush requires 16 hours of sunlight in the growing cycle and only 12 when flowering. Other strains require 18 to 24 hours of daylight when growing.
A light timer is perfect for achieving accuracy. Make sure any plants you grow are well ventilated.
Do temperature ranges impact my plant?
Most plants require a similar temperature range to grow. Still, American weed seed banks offer variety.
Our Afghani and most other strains require temperatures between 65 and 80 degrees to flower. Still, others such as Bubba Kush love slightly warmer temperatures and grow even in 82 degrees.
Which seeds are easiest to grow?
Forgiving plants are the dream for amateur growers. Blue dream offers a balance between energy and relaxation while being easy to grow. The plant thrives in much of the United States and even does well during cold nights.
For those looking for a guaranteed flowering, auto-flowering seeds are as close as it comes. The plants they grow produce in almost any condition.
How do I grow feminized plants?
While ease of growing is nice, in some cases efficiency is better. The average pot plant produces 21 ounces or more of marijuana when grown right.
Feminized plants are exceedingly efficient as they all fertilize and produce marijuana. While the lack of males means no seeds, this can be a good thing as you get more marijuana per cycle despite needing to buy more seed packs.
Where can I find seeds?
The best cannabis seed bank in the United States assures the quality of every product while being affordable. We strive to be that provider, checking our large collection of seeds and providing an extra to account for any unknown issues.
We even ship discreetly. Our packages contain no branding, allowing you to grow with peace of mind, away from the prying eyes of neighbors, landlords, parents, and others who may have a second opinion on natural relief.
Buy pot seeds cheap
We offer affordable and legal marijuana seeds in the mail. Most strains sell for $55 to $125 for a pack of six or more.
These seeds and the required nutrients, pots, and lights are less expensive in the long term than continually visiting your local dispensary. This holds even when there are no male plants.
Visit our expansive online catalog to buy marijuana seeds in the USA.