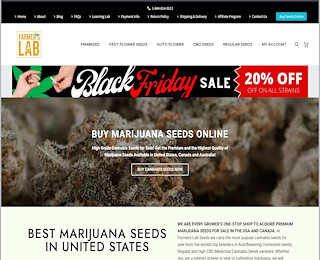 Farmers Lab Seeds is an online seed bank based in Canada that supplies cannabis seeds worldwide. Our thorough selection and examination process ensures that we only provide the highest quality seeds to all our customers. Buying cannabis seeds in the USA and Canada has never been easier, as we accept a variety of payment methods and offer discrete shipping to protect the privacy of our clients.
How to Buy from Us
We accept the following payment methods when you buy our USA cannabis seeds online:
Cash by Mail
Bitcoin
E-transfer (Canada)
Credit Cards
Direct Transfer (USA)
PayPal
eCheck (USA)
When you pay using mail, Bitcoin, and e-transfer, you qualify for a discount on your purchase. There's a charge on transactions made with credit cards, direct transfer, PayPal, and eCheck since we incur costs when clients use them.
Selecting the Right Seed Strains
Sativa, indica, and hybrid are the three main strain categories provided by American weed seed banks. Here are the two main factors you should consider when choosing the right strain:
This is the cannabinoid content that a particular plant is expected to produce. For cannabis, this refers to tetrahydrocannabinol (THC) and cannabidiol (CBD).
Terpenes are organic compounds that give weed its unique smell and taste. Since flavor and aroma can largely influence a user's experience, this is an important factor to consider.
3 Kinds of Weed Seeds That We Sell
As one of the best American online seedbanks, we sell various types of marijuana seeds. Here are three of them, accompanied by a product of each:
These are seeds that are meant to only produce female plants. They're an ideal choice for growers whose only interest in cannabis are the buds.
AK 47 Seed – Feminized
Price : $55 – $145
The AK 47 feminized seed produces a sativa dominant hybrid plant. It has an average flowering period of 8-9 weeks and can grow well both indoors and outdoors. Yields are up to 350-500 grams per square meter.
Auto-flowering seeds grow into plants that switch from the vegetative to the flowering stage without depending on any specific hours of light or darkness.
Amnesia-Auto Fem
Price: $55 – $145
Classified as sativa-dominant, Amnesia seeds give a high yield of up to 600 grams per square meter. Their plants have a high THC potency of approximately 20 percent. They can grow up to 180cm, and take about 11 weeks to flower.
Regular weeds seeds are completely natural and have not been altered in any way. When you buy a regular seed pack, you'll grow both female and male plants.
Afghani Cannabis Strain Seeds
Price: $45 – $125
This is an indica strain with a THC potency of between 15-20 percent. It's easy to grow and an excellent choice for beginners. When used, the Afghani weed can produce euphoric, relaxed, or sleepy effects.
Your One-Stop-Shop for Weed Seeds
Farmers Lab Seeds is a reputable online cannabis seed purchasing outlet where you can get genetically certified seeds. Come to us if you're buying cannabis seeds in USA for cultivation. For any questions on how to buy weed seeds in America online, give us a call today on 1-844-814-3013.