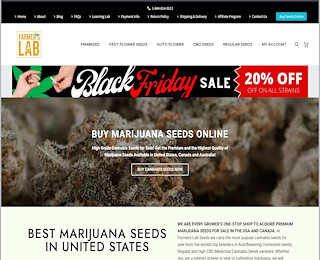 Farmers Lab Seeds is one of the legit marijuana seed suppliers in the USA. We ensure that we only provide certified seeds that are guaranteed to germinate and grow into plants that have the indicated cannabinoid profiles. If you're buying marijuana seeds in USA, here are five killer weed seed strains that you can get from our online store.
Price: $55 – $145
This is a potent, indica-dominant strain with dark colors. It has a strong effect on users, which usually begins with euphoric feelings after just a few hits. Next comes numbness and sleepiness. Each plant yields up to 500 grams with a flowering period of about ten weeks. The tetrahydrocannabinol (THC) potency of Black Domina seeds is between 18-25 percent.
Blueberry Strain – Auto Fem
Price: $55 – $145
The Blueberry strain is an indica type with a high THC level of 20 percent. It's auto-flowering and feminized and grows into plants with colorful leaves and buds that provide an intense and long-lasting relaxing effect. When used, the Blueberry strain has a sweet, berry-like flavor. The expected yields are 500 grams per plant.
This strain can be grown either outdoors or indoors, as long as temperatures are maintained below 80 degrees Fahrenheit. The plant flowers in about 8-10 weeks, and grows to a height of around 4 feet.
Green Crack Strain – Feminized
Price: $55 – $145
This is one of the best sellers in our feminized category and is perfect for users who want to remain focused, with a clear mind throughout the day. The Green Crack strain is a top choice for first-time cultivators since it's easy to grow and only requires basic care, such as maintaining the right temperatures (72-80 degrees Fahrenheit).
This strain will normally grow to a height of 3-4 feet, making it ideal if you have limited growing space. Another plus for the Green Crack strain is that it has a relatively short flowering period of about 7-9 weeks.
Northern Lights Strains Seeds
Price: $45 – $125
If you're looking for a pure indica strain, Northern Lights is a great choice. It's known to provide an instant body-high with effects that range from uplifting, happy, and euphoric to relaxed and sleepy. This is a fast-growing strain that can flower in 6-8 weeks.
Fast Flower Bruce Banner #3
Price: $60 – $154
The Bruce Banner is a high THC hybrid strain with a potency of 24 percent. It has high yields of up to 600 grams per square meter. Its flavor profiles include diesel, earthy, and sweet.
You can trust us at Farmers Lab Seeds to be one of the American cannabis seed sellers, and we'll deliver exactly what you order. As the best seed bank in the USA, we accept returns if you're not satisfied with the product that you receive. When you buy from us, you get additional free seeds, allowing you to purchase marijuana seeds online cheaply in the United States.
Get Your Seeds Today
Are you wondering where to order cannabis seeds online? Farmers Lab Seeds is your one-stop-shop. Buying marijuana seeds in USA from us is quite convenient since we accept different payment methods, including major credit cards. Contact us today on 1-844-814-3013 for more information about our strains. Also, feel free to purchase our cannabis seeds online at any time.