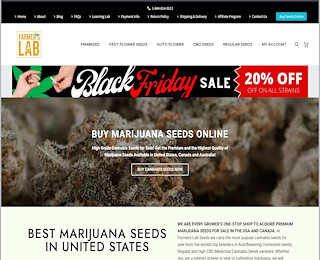 Canadian marijuana seeds have a legacy of producing quality pot, a legacy Farmers Lab Seeds aims to continue with our extensive catalog of affordable seeds shipped directly to your door. The process is legal and helps you avoid costly and unnecessary trips to your local dispensary.
Which seeds grow well in Canada?
Canada is the great nation of the North. Mild summers, bizarre light conditions, and cold winters are common in many parts of our country. Strains which grow incredibly well include:
Ak-47
Blue Dream
Dwarf Lowryder
Grapefruit
Northern Lights
Ease of growing, tolerant temperature ranges, and the ability to grow indoors make these strains ideal. Save money without buying extra equipment from your local grow operation.
Does AK-47 grow well in Canada?
AK-47 reminds everyone of a terrific spring day in the woods with sweet, florally, and earthy aromas and a high that leaves you physically relaxed as well as alert. The strain takes seven to eight weeks to flower with a high yield and moderate growing difficulty.
The reason many Canadians choose this strain is the ease of growing indoors. The plant loves dry climates between 68- and 80-degrees Fahrenheit. From Ontario to Vancouver, many choose to cultivate AK-47.
Is it easy to grow Blue Dream?
Among our rarer marijuana seed strains online is Blue Dream. This plant is vigorous with a large margin of error. You won't have to worry if the power goes out.
These plants even handle cold nightly temperatures. The high is a mix of energetic and relaxed with the ability to relieve insomnia, anxiety, and loss of appetite.
Growing marijuana in tight spaces
Not everyone can grow plants in spacious greenhouses. Your apartment may be your only option.
Dwarf Lowryder is about the size of an indoor plant, making it easy to maintain from your own home. The strain is also auto-flowering, requiring 18 to 20 hours of light each day and minimal maintenance.
Am I legally allowed to purchase seeds online?
Buying seeds online is legal even where cannabis is regulated since they do not contain THC. Still, you will need to check with state and local authorities to ensure you are legally allowed to grow this plant.
The nation requires registration to grow plants. While you can order weed seeds in the mail in Canada, you will need to ensure that you can grow the Canadian cannabis seeds for sale without legal repercussions.
Purchase marijuana seeds in Canada
Marijuana seeds give you a constant supply of quality pot for any recreational and medical need from the comfort of your own home. Affordably priced seed packs are the perfect solution for anyone.
Farmers Lab Seeds checks seeds to ensure they are blemish-free, removing inconsistencies and potential problems. We even provide an extra seed in case we missed something. Our extensive online catalog and discrete shipping create a one-stop-shop for seeds.
Visit our extensive list of quality Canadian marijuana seeds to find out if we fit your needs today.