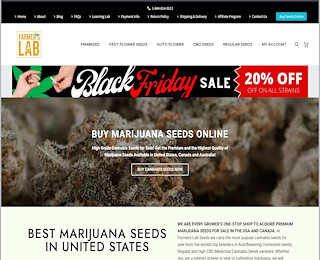 Cannabis seeds for sale in the USA can be affordable and offer a continuous supply of marijuana without requiring you to leave the comfort of your home. Farmers Lab Seeds provides quality seeds throughout North America for any customer.
What are the best Indicas in the USA?
An Indica strain increases mental and muscular relaxation, decreases nausea, decreases acute pain, and increases dopamine. The higher the THC content, the more potent the strain is. Some of the most potent strains include:
Blue dream
Bubba Kush
Girl Scout Cookies
Purple Kush
NYC Diesel
These strains are powerful aphrodisiacs. They are also perfect for recreational use.
What is Blue Dream?
Many looking for cannabis seeds in the USA are looking for a middle ground between couch-bound and energetic. Blue Dream provides a relaxed, happy, and euphoric high that relieves stress, anxiety, and depression while even promoting appetite.
Blue dream is perfect for growers with any level of skill. It allows for a large margin of error, flowering in as little as nine to ten weeks in climates ranging from 65 to 85 degrees Fahrenheit.
The fame of Bubba Kush
Bubba Kush is a relaxing strain promoting sleep, happiness, and euphoria. Those with eating disorders also benefit from use but this strain will produce a sleepy high.
These plants, like Blue Dream, offer a large margin of error. The strain is easy to cultivate with a high yield of flowering within nine to ten weeks.
Enter a cerebral space with Girl Scout Cookies
The Girl Scout Cookies strain offers full-body relaxation in a time-bending bud. A large amount of THC means that a little will help combat severe pain, nausea, and appetite loss.
The plant is somewhat more difficult to grow than Bubba Kush and Blue Dream with a lower yield but also a lower flowering time. Most plants flower within nine weeks.
What is Purple Kush?
For a truly calming effect that does not leave you locked to the couch for hours on end, Purple Kush is a terrific option. The subtle but sweet strain induces sleepiness while relieving stress and pain without knocking you out.
The eight-week flowering time means that a purchase from a US seed bank will continue to provide quickly. Growth requires some knowledge.
Are all Indicas relaxing?
While most Indicas cause sleepiness, New York Diesel has the opposite effect. Use leaves you feeling energized while providing a deep, full-body relaxation over time.
This strain is not for the faint of heart with a difficult growth cycle. Plants flower within 10 to 12 weeks.
Cannabis seeds for sale in the USA
Buying marijuana seeds online is cost-effective and can give you a steady supply of Indica. Farmers Lab strives to provide quality and affordability from the comfort of your own home.
Our large catalog and centralized location allow us to bring you the relaxation you need with low overhead at a great bargain. Buy cannabis seeds online today. Visit our website to browse our extensive catalog.