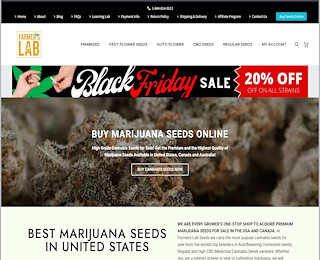 No one else comes close when it comes to where to buy cannabis seeds in America than farmers' lab seeds. Be it regular, feminized, Indica or Sativa, we have got you covered with our seed bank boasting seeds from just about every category known.
But getting your marijuana seeds from a US seed bank is one thing while growing them is another thing. A lot of factors play roles in how effective the seed would grow from how they are exposed to sunlight to the atmosphere they are being grown.
Certain parts of the world have different climatic conditions and these conditions can sometimes play roles in how successful plants can grow with marijuana being no exemption.
So what are some legal weed seeds online that you can grow in the USA?
Just about anywhere you look for USA cannabis seeds for sale, one name is sure to pop up, which is the Fast flowering AK 47. This strain comes with a name that signifies rapid effect, and quite rightfully so. This strain offers a steady long-lasting cerebral buzz to users when relaxing.
Marijuana seeds usually require between 3 to 5 months to fully mature, but this special strain does that in 5 to 6 weeks, which is quite amazing to anyone who witnesses it. Some might be a little worried about how fast it grows, but little is left to doubt once it is consumed.
The fast flowering AK 47 is among the best of the best when it comes to rankings when looking to buy cannabis seeds online in the USA.
The northern green lights are some of the most amazing seeds you can grow in the united states. They are one of the most sought after legal weed seeds online for a number of reasons.
They are easy to plant.
They are best grown indoors.
They are Indica dominant hybrids.
They offer that happy, sleepy euphoric use on use.
They grow fast.
All of the above are just some of the many pleasing characteristics of this strain that has seen it win awards.
Blue dream seed (Automatic).
Seeds generally branded with automatic are usually in high demand in the United States due to their easy growth difficulty and relatively short flowering time, between 9 – 10 weeks. This seed is considered a legend in the US due to it originating from California and being very popular among veteran growers.
On usage, it entrusts users into another realm of calmness and is growing in popularity in Washington and Colorado.
The NYC Diesel is another amazing seed you can grow in the united states.  This Sativa hybrid strain has been awarded the cannabis cup awards nine times now leading it to be branded as one of the most decorated and revered Sativa dominant strains in the world. This strain can be a little difficult to grow but when properly cared for, brings about a plant that is both appealing to eyes and is also amazing to use.
Rounding up the list of some of the best cannabis seeds to plant in the US is the grapefruit strain. This strain comes in two distinct Sativa dominant pairs, the BC grapefruit and the Nectar grapefruit with both offering that much appreciated euphoric and relaxing effect when used.
There is no other place to consider looking for cannabis seeds for sale in the US other than at farmers' lab seeds. You are guaranteed quality seeds at the most competitive prices out there with deliveries. simply click here and stand to be mesmerized.