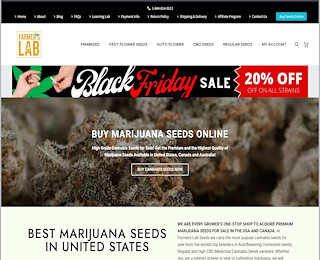 When it comes to getting the best US marijuana seeds, no one comes close in terms of standard and quality to the seeds available here at the farmers' lab seeds. All of our products come with industry-standard packaging and preservation and that's just the tip of the iceberg.
Marijuana isn't just a herb, its culture, and class that needs proper attention for it to blossom into the amazing buds and pot, that we all love to get a taste of. We at farmers' lab seeds fully understand the importance marijuana serves and as such tailor our production process to be at the pinnacle of the pile when it comes to delivering USA marijuana seeds to all that are in need of its wonder.
Whatever your preference, either Sativa, Indica or plain old regular seeds, we have got you covered. We don't just offer marijuana of the highest quality, but also offer seeds with the classiest of names and categories.
Some great marijuana seeds you should try out.
The AK 47 leaves up to its name. The seed is a Sativa dominant hybrid, meaning they give users that much-needed relaxation and highness they are in search of. This seed being the 6th best seller in our Sativa category doesn't fully do this strain justice for what it really is. The AK 47 seed bares origins with the cannabis species from Asia and is perfect for anyone looking for a chilled cruise.
Starting at $55, the chocolope is a bang for the buck when it comes to marijuana seeds with impeccable flavors. This seed is also easily grown, so if you are a newbie in planting marijuana seeds, then you have little to worry about. The chocolope seed is easy to plant, either indoors or outdoors with all you have to worry about simply being overfeeding the plant.
The Grapefruit strain comes in two variants. The first being the BC grapefruit and second, being the Nectars Grapefruit. Both are a must-try as they provide that much-expected euphoria feeling and energy. These seeds are a favorite of many as they are our second best selling regular seeds.
when it comes to pure Indica strains, the Northern lights strain seeds among our collection stands firm against any competition. Not only is this strain well known as a famous cannabis strain, but it also affords users that much appreciated high feel almost immediately after use.
The grapefruit strain seeds come in two variants, the BC Grapefruit and the Nectars Grapefruit with both offering users that powerful euphoria feeling and energy. Both offer exhilarating experiences to users and are among some of the most in-demand seeds out there.
Are you looking to buy cannabis seeds in the USA, or simply looking to buy marijuana seed strains online, then farmers lab seeds are your best bet. Purchasing cannabis seeds online can be a little risky due to no assertation on what value you are actually getting. we at farmers lab seeds have a firm return policy that has you covered. we offer 30day replacement periods, refund on no delivery, and checkout security.
we also offer a tollfree line that customers can call to make an enquiry on their favorite seeds. interested in making a choice among our catalog, simply click here.