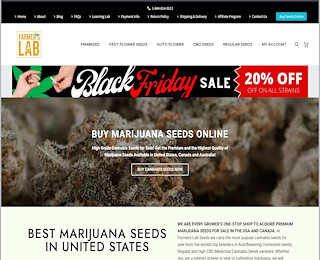 Medical marijuana seeds in the USA are not just a source of relief but a necessity for many growers. Farmers Lab Seeds gives you the high you need from the comfort of your own home, backed by discrete shipping and a quality assurance program.
Where can I find medical marijuana seeds?
Farmers Lab Seeds offers medical cannabis seeds for sale in America online. Our strains include:
Bubba Kush
Ak-47
Blue Dream
Black Domina
Girl Scout Cookies
We offer dozens of different strains in variants geared towards everyone from new growers to experienced horticulturists. Handle appetite loss and anorexia, pain, nausea, and insomnia when you order medical weed seeds online.
Which marijuana strain helps relieve pain and nausea?
Girl Scout Cookies is a high THC marijuana with the power to take on powerful issues. Remove pain and launch yourself into a state of relaxation and euphoria.
This strain takes nine to ten weeks to grow. The wait is worth the trouble as you get access to a large quantity of powerful relief for as little as $55.
Which strain help with appetite loss and anxiety?
Anorexia is a serious problem. It is often accompanied by a degree of anxiety. For many people suffering from eating disorders or merely a loss of appetite, Blue Dream is perfect.
Relief comes swiftly after a nine to ten-week growth cycle. Our auto-flowering seeds are perfect for anyone without growth experience.
Fighting depression with an Ak-47
Depression is among the largest problems in America. Feelings of inadequacy dampen our mood, but Ak-47 helps reverse these feelings as an uplifting strain.
Ak-47 requires some experience to grow but the relief comes weeks earlier than with other strains. Time to flower is within seven to nine weeks.
Which strain fights stress?
Stress related to medical problems is common. Debilitating injuries force us to fight to complete daily tasks.
Black Domina suppresses and relieves stress with a relaxing high. Pain and stress relief help you fall asleep with ease. Combine with more energetic strains such as NYC Diesel to get a full day's worth of productivity and relief.
Falling asleep with ease
Pain and even genetics lead to sleepless nights. Sleep rebuilds the immune system, cleanses the body, and keeps us alert and promotes a healthy lifestyle.
When you need to fall asleep, Bubba Kush can help. The most pronounced effect of smoking this strain is a relaxed high combined with euphoria and sleepiness.
Which strain should I choose if I am a new grower?
New growers benefit from the use of auto-flowering strains that produce under many different conditions. Blue Dream and AK-47 offer a larger margin of error.
Some new growers are space limited. Our Dwarf Lowryder fits in a well-lit, properly ventilated corner with UV lights.
Medical Marijuana Seeds in the USA
Medical marijuana offers patients real relief without the effect of drugs. Farmers Lab Seeds believes that everyone should have access to therapeutic marijuana.
We check our seeds for quality and ship discreetly. Visit our website to browse our large catalog today.