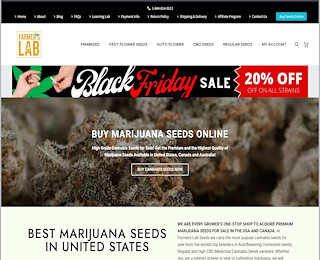 It is tempting to settle for designer strains of standard marijuana considerations that are popular in your area. You have to learn the different strains on the spectrum and understand which ones will give you the right amount of high or peace. Here is an excellent guide on all you need to know before you buy weed seeds in Canada online.
Top ten weed strains to consider when buying marijuana seeds in Canada
AK47
Any weed consumer hears or ha experience with the seed. The award-winning strain has favorable taste, from both the Indica and Sativa types. The AK-47 is the best of both worlds and takes the award for the most complex and satisfying complex for optimal relaxation and pain relief.
Amnesia
Amnesia is a widely diverse cannabis strain that takes multiple properties from many different parent strains. Each plant may have a slightly different composition because it draws its genetics from different lineages. Amnesia has a refreshing appeal, featuring citrus, earthy, and pine flavors.
Black Domina
The seed is one of the most adored in the world because it has a powerful ability to take over your senses and body. It is a better option when you want to enjoy the sensation for several hours without other responsibilities. Black Domina has an intoxicating effect after a few hits and is excellent for alleviating anxiety, paranoia, and dizziness.
Blueberry
A fun fact is that Blueberry joined the market in 1998, in the Dutch market. The cannabis strain gets its name from its flavorful fruity taste, which is a base for many modern strains. Blueberry has a colorful hue on the large fan leaves. It has a distinct long-lasting pleasure.
Bruce Banner
The famous strain has a fascinating history, which marks the rise of many strains in the United States. They launched in Colorado and made their way to the public through the medical scene. Bruce Banner is almost overwhelming for seasoned users because of the powerful potency to induce relaxation, joy, and an alert imagination.
Bubba Kush
The intense Indica tastes like coffee and chocolate and has massive capability in improving relaxation. It is famous as a sleeping aid that leaves the mind clear and calm. Bubba Kush has excellent medicinal qualities, making it a popular purchase for weed seeds in Canada.
Cheese Marijuana
Cheese is famous for its incomparable taste. It delivers a deep euphoria and tingly energy and mind relaxation. You will not feel any anxiety or energy loss after a few hits from the Marijuana seed bank in Canada.
Girl scout
Girl scout has a minty sweet taste with a soothing and calming effect. It is enough to keep people coming back for more because of the tantalizing aroma and deliciousness.
Gorilla Glue
Gorilla was an accidental creation of Canadian cannabis seeds for sale by two farmers, that has recently regained its legendary story in recent years. It has an earthy and sweet note, with hints of lemon and wood.
Grapefruit
The sour strain has a juicy citrus taste, which stimulates a relaxed and spacey mind space.
There is no single strain that will offer you every desire when you buy legal weed seeds in Canada. You can use the above define characteristics to evaluate your best weed seeds in Canada and contact 1-844-814-3013 to make an order now.