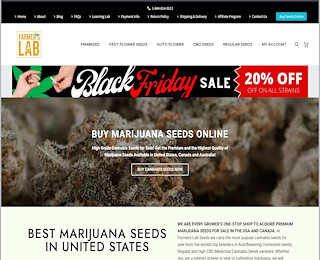 Cannabis seeds for sale in the USA are more affordable online. Farmers Lab Seeds provides quantity and quality at a lower expense than your local grow supply store, all from the comfort of your own home. We offer seed packs for any taste, need, and skill level.
What is the best-feminized seed pack?
Feminized seeds allow you to fertilize every plant but require skill to cultivate. The types of seed pack you need depend on the type of high you desire.
The best marijuana seeds for sale in the United States seed banks help ensure that every plant flower. Whether you are looking for an energetic NYC Diesel or relaxing Bubba Kush, Farmers Lab Seeds procures quality products while scouring through every pack to provide the best possible product.
What are auto-flowering seeds?
At the opposite end of the skill spectrum, auto-flowering plants are easy to grow. These plants flower within ten to twelve weeks in almost any condition.
We offer you the chance to grow a steady supply of Blue Dream for an energetic yet relaxed high or Dwarf Lowryder for cramped spaces and a more relaxed high. Our auto-flowering seed plants aim to fit whatever living arrangement you have.
Sativa and Indica seed packs for sale
Aside from the difficulty of the growth cycle, you will need to determine the type of plant you want to grow. An Indica offers relaxation while Sativa plants are more energetic and will keep you going.
We provide a large variety of each type of strain in feminized variants. Gain access to efficiency and the high you need when you buy cannabis seeds in the USA from Farmers Lab Seeds.
Are seed packs affordable?
Marijuana seeds are not like buds. Although you will need to be able to fertilize feminized plants and rebuy seeds, they can easily produce large amounts of bud.
Feminized plants produce no seeds. Still, at a cost of as low as $55 for six seeds from our online store and yields of up to 21 ounces or more per plant, you save money.
Is buying USA weed seeds online legal?
Marijuana seeds contain no THC with only the potential to yield potent plants. This means that we can legally ship them across the United States and even Canada.
You will still need to check with local laws since many states or municipalities limit your ability to grow. You cannot create a grow operation in the middle of a major American city.
Cannabis seeds for sale in the USA
Cannabis seeds for sale in the USA are affordable online. With a centralized location and low overhead, we ship across North America at a price you can pay.
We use a rigorous quality assurance process to assure that our feminized seeds produce only bud and are disease-free. Quality, cost, and convenience drive our business model.
Visit our website today to find a strain that fits your needs. Order feminized seeds from the comfort of your own home with Farmers Lab Seeds.