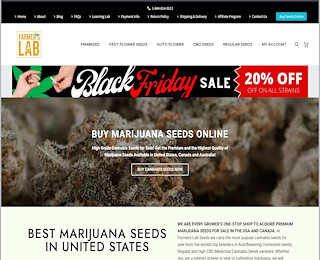 If you're a marijuana breeder, whether experienced or novice, you'll want to make sure that you get the best weed strains with the legalization of marijuana in California. You're going to face some complications if you don't have the right marijuana seed when trying to grow your bud. The best weed strains out there will provide you with an excellent germination rate.
At Farmers Lab Seeds, we've taken the time to help our customers find and review the most popular seed strains perfect for growing in California. Check out our list of the best California seed strains on the market. 
What Are The Best Cannabis Seeds Strains?
The best cannabis seed strains in California must meet various characteristics like average to high fungal resistance, high-quality weed production, easy to grow, and excellent yields. Keep an eye on the species below if you are looking for the best seeds strains to grow in California. 
Sour Diesel Strain
Sour Diesel, also known as Sour D, has a very potent mind-altering and long-lasting effect. This strain usually produces only a few buds and tends to stretch and thin out. Growers must trim this plant to get high yields. The buds it produces are high in THC once pruned. 
Blueberry Strain Seeds
Blueberry strain is among our list of the best cannabis strain to grow in California. It has a sweet smell that draws your attention and possesses a blueberry-like scent. With Blueberry strain, you'll experience some of the best, most relaxing moments ever. You'll feel euphoric and keep smiling.
Girl Scout Cookies
GSC is one of the best strains in 2020 because it relaxes your body, mind, and souls, as well as making you feel happy, creative, and even euphoric. The strain is a combination of Durban Poison and OG Kush and includes the indica component of OG Kush and sativa of Durban Poison.  Girl scout cookies are easy to grow in any climate. 
Purple Kush
Purple Kush is renowned for its high THC level of over 25 percent and its distinctive purple leaves. While this seed strain is not the easiest to grow, an experienced or seasoned cannabis consumer will relish it blissful, long-lasting euphoria effect and rids the body of pain, stress, and sleepiness.
White Widow Strain
White Widow Strain is one of the well-known and critically acclaimed strains in the world. It's an easy to grow strain that gives an excellent yield. This strain is characterized by white crystal resin – indicating the potency of its effects. White Widow is a classic and deserves a particular spot in any grower's garden.
Where To Buy Weed Seeds In CA?
Nothing assures a successful marijuana growth than starting with the best strain. Finding the best weed seed can make a huge difference when it comes to growing cannabis. If you are looking to buy the best cannabis seeds strains in California, contact Farmers Lab Seeds today. We are your number #1 choice marijuana seeds supplier in CA.