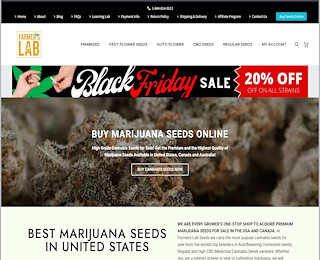 Feminized cannabis seeds in the USA give you the power to create your own marijuana supply with maximal efficiency. Farmer's Lab sells quality seeds of a variety of feminized strains to help you grow your own supply and avoid a costly trip to the dispensary.
What are the best feminized seeds you can buy?
Many strains of marijuana can be feminized. This is merely the process of creating a crop that can be entirely fertilized with almost no male plants.
Some of the most popular strains on our site have feminized varieties. Purchase AK 47, Amnesia, Bubba Kush, OG Kush, Girl Scout Cookies, and more.
Feminized AK 47
AK 47 provides a cerebral buzz that keeps you mentally alert and engaged in creative in social activities. The scent is sour and earthy with sweet floral notes.
This strain relieves stress, pain, and depression through its uplifting nature. Dry mouth and dry eyes are possible.
Feminized Amnesia
Amnesia does not lead to temporary memory loss but does create a sense of euphoria. Forget your pain, anxiety, and depression with this high THC strain.
There is a 9 to 10-week flowering period with this strain. Plants yield marijuana that is fruity, peppery, and minty.
Feminized Bubba Kush
When you are looking for a more tranquilizing effect, Bubba Kush rises to the occasion. This peppery and citrus tasting plant rewards you with full body relaxation.
Feel relaxed, sleepy, and happy while removing stress and alleviating insomnia. The bud structure produces hues ranging from forest green to a majestic purple.
Feminized OG Kush
If you are looking to feel relaxed but not overly sleepy, OG Kush is a terrific option. Growing these plants gives you a supply of that mixes the benefits of a Sativa and Indica.
The strain became popular since its inception in 1996. Users report being happy and relaxed without being glued to the couch.
Feminized Girl Scout Cookies
Perhaps among the most medically capable strains of marijuana is Girl Scout Cookies. Many look to this strain to relieve pain, nausea, and loss of appetite.
Cultivation time is between nine and ten weeks with the potential to grow indoors. These plants love the light, growing best in 16 hours of light during the growing cycle.
Is it legal to buy feminized weed seeds in America?
Since seeds do not contain THC, it is possible to sell and ship them within the United States. Feminized marijuana seeds for sale online give you access to a greater catalog of options within the comfort of your own home.
You should still check local and state laws to ensure that you can grow plants. Some areas require registration and limit the number of plants you may keep.
Buy feminized seeds in America
Farmer's Lab is a Canadian-based online seed bank with the objective of providing therapeutic solutions to individuals anywhere at a price they can afford. We hand select our seeds for imperfections and freshness.
Gain access to your favorite seeds at an affordable often one-time price. Buy feminized cannabis seeds in the USA online at Farmer's Lab today.